New York Toy Fair: The Game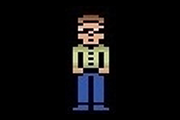 How would you like to re-live the the entire Retro VGS / Coleco Chameleon debacle of last year? Originally written by Mike James from Retrogaming Roundup as a web based game, our latest offering sees you playing the infamous Mike Kennedy at the 2016 New York Toy Fair. Your objective is to scour the fair for components that can be used to construct a fake prototype and to go where no scam has gone before.
You can grab it now on Android and iOS for free using the links below.